Music
Children in Key Stages One and Two learn Music on a half-termly rolling cycle with another subject (i.e. They study music for half of the year). In EYFS, weekly music lessons take place in addition to the songs, rhymes and chants that are integrated into phonics, English and the wider curriculum.
Please find here the primary national curriculum for music: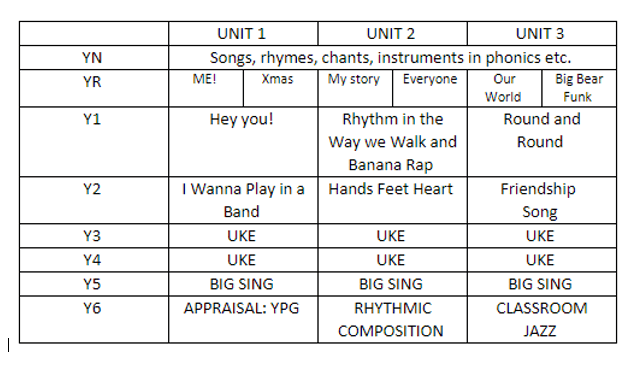 Reception Foundation Subject Long Term Plan
Click here to see how our music curriculum meets national curriculum requirements
Click here to see our progression in music document
Parents can opt-in to peripatetic lessons. Children have the option to learn the guitar or the violin. Please speak to Mr Asquith for more details. Recently, we held a 'try out' session for wind and brass instruments in the hope that we will be able to expand this provision.
Our planning in KS1 is provided by Charanga: a quality scheme of work that introduces the foundations of listening, performance and composition in an engaging way. Three units of work are completed in Year One and three units are completed in Year Two.
Lower Key Stage Two pupils benefit from a specialist ukulele teacher, provided by Artforms. These lessons are on a rolling cycle with swimming and so are taught for half of the academic year. Children study national curriculum objectives such as reading notation and improvisation as part of the ukulele lessons.
Year Five children take part in Opera North's The Big Sing, in which repetiteurs from the company train our teachers and children to perform a large-scale work. After three half terms of rehearsals, training and practice with teachers in school, children travel to be part of a large performance with children from across Leeds.
When we can all meet together for assembly, we meet weekly for singing assembly, led by Mr Robertson in the hall. Our lively music making also takes place on a Friday evening, where children from across a network of schools come together to rehearse in the community training band.
Assessment in music is completed at the end of each unit through a range of observations, performances and the assessment of compositions or written work.
For more information about our music curriculum, please speak to Miss Robb.