Pond and Wildlife Area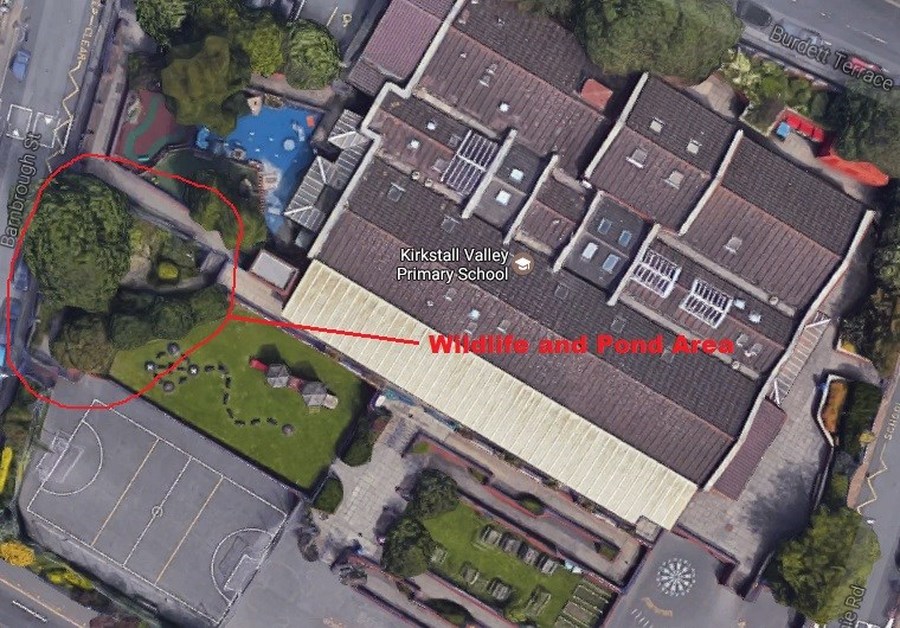 Our Pond Area is in the process of being regenerated by Holly Bush Conservation. At the moment it is unusable as it is very overgrown and dangerous. The deck area at the front of the pond is unstable and unsafe as there is no barrier to the pond itself.
The plan is to remove all the planting to the pond and surrounding area, remove the old deck and create a new pond with a larger liner. The pond will then have a deck created on three sides of the pond with a small barrier/rail to prevent accidents. The fourth side will be the barrier wall. New benches will be created using railway sleepers for the children to sit on.
The cost of the work is almost £3000 so half of the cost is being funded by our school PTA with the other half being paid for by the school.
All proceeds from the Ugly Bug Ball will also be going towards the pond.
We will add pictures as the work progresses.
As you can see by the images below, our wildlife area is very WILD !!
The End of day one - I knew we had a pond somewhere!
Day two - The beginning of the new deck. The team from Hollybush worked really hard removing the old deck.
Day three -The pond area is proving to be very difficult to dig out for the new deck.
Day Four - the pond is starting to take shape now.
Day Five - The first platform is in.
Day Six - The decking is almost done, the posts for the hand rails are going in.
Day Seven - The hand rail is almost complete and there are a few benches in place now.
Day Eight - The decking is finally complete and it looks great thanks to the Hollybush conservation team.
The children will love the new area.
We would like to say a massive thank you to everyone who supported our Ugly Bug Ball. To all the staff who gave up their own time to plan, shop and especially bake and to all the parents and children who attended and made it another great success. We raised £180 towards our new pond improvements.
A special thank you goes to Mrs Draper and Mrs Tordoff who magically make it all happen ( with a little help from their friends ! )